Plant Materials
Mason Brook is proud to offer a broad selection of quality plant material for any condition, location or budget. Here's a summary of the beautiful plants we sell and grow!
Annuals
Here at Mason Brook, we specialize in growing our own collection of popular (and some very unusual!) annuals. From 6-paks to large planted urns and wrought iron troughs, we cover all the bases with varieties for sun or shade. Check out our custom sown mixed hanging baskets, always fresh, healthy and ready for your porch.
Vegetables
You'll find everything you need to plant a spectacular veggie garden, starting with our own cold crop varieties available in early April. As the weather warms, you'll find all of your favorite starter plants, in sizes from 4-paks to 1 gallon. To help you get started, you can pick up a wide variety of organic soil amendments, loam, compost, upside-down tomato planters, raised bed starter kits, fertilizers, tomato rings and much more.
Hardy Fall Mums
Fall is a beautiful time of year to visit. We offer more than a dozen colors grown on site. Pick your favorite straight from the field or check out our special combinations in a 2 gal container. We have the biggest and best in the area.


Perennials
Another specialty here at Mason Brook, we grow thousands of perennials each season, with new varieties coming ready every month. You'll find an amazing selection of plants for sun, shade and groundcover, in pots ranging from quarts to huge 5-gallon landscape size. Look for our unusual varieties, and a selection of native plants.
Herbs
Looking for herbs for cooking, kitchen windowsills, or just great outdoors scent? You'll find great choices in our greenhouses, grown fresh and ready when you need them.
Fruits and Berries
Whether you're shopping through our fruit tree area, with over 100 trees to choose from, or picking out blueberry and strawberry plants, we'll keep you and your family happily enjoying fresh fruit for years. Use our organic fungicides, tree sprays and tree nets to maximize fruit quality and yield. We'll be happy to show you the way!
Ornamental and Shade Trees
Mason Brook carries a large selection of B + B and container trees for any landscape application. You'll find popular shade-tree varieties such as maples, birch and beech, and ornamental types such as cherries, weeping cherries, redbuds, flowering pears and plums, as well as many hard-to-find varieties. We carry these trees in 5 different size containers, as well as large-caliper balled selections. We also offer delivery and installation of any one of our trees. Don't see the variety or size that you need? Mason Brook specializes in finding these plants, and having them delivered right to your door. Not sure what type of tree you need? Let our landscape specialists help you find just the right one!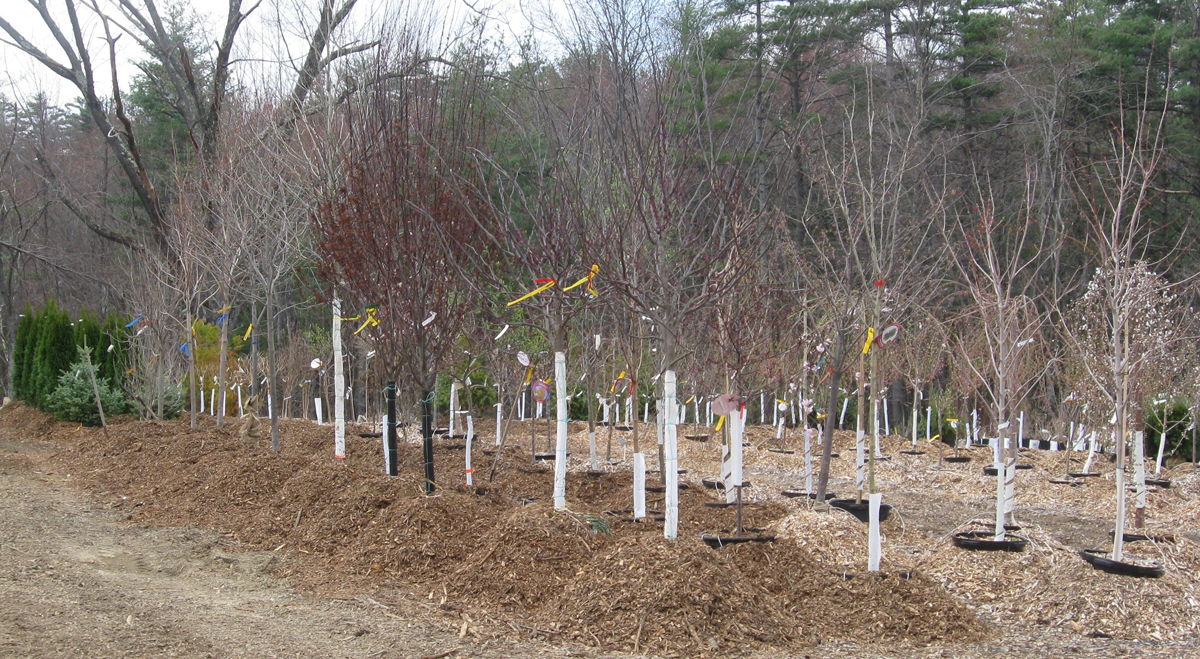 Shrubs
Come browse our shrub display field, where you'll find anything you'll need to landscape your home/yard. Available in 5 different size containers, as well as B + B varieties, we can help you with any questions about which shrub will work for you. Sun, shade, wet areas, deer resistant, berries for birds, dry conditions or fragrance, we can find the perfect shrub for your needs. All of our shrubs can be delivered and installed, or we offer landscape design, consultation or coaching services.
Evergreens/ Conifers
Also in our shrub display area, a wide range of evergreens and coniferous trees awaits you. Hollies, junipers, arborvitaes, cypress, rhododendrons, azaleas, spruce, fir and more will give you year-round landscape interest, as well as habitat for native birds and wildlife.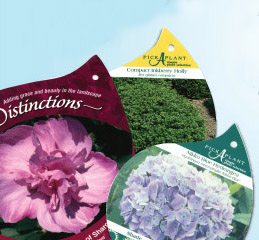 Many of our trees and shrubs even carry a free Life Time Guarantee, and can be found by locating the special tear drop shaped tag.
No hassles - just save your receipts and the tear drop tag!